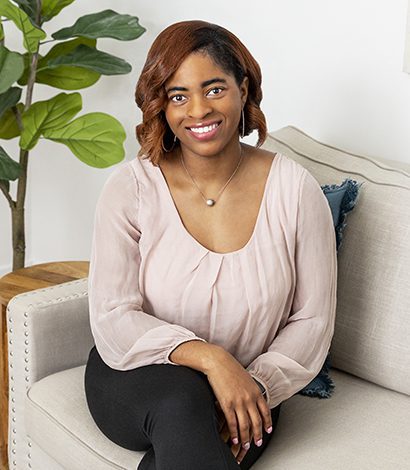 Licensed Clinical Professional Counselor
Alexis Cameron, MA, LCPC
Balance and Purpose. Comfort the Soul.
I am passionate about helping children ages 5-12 years old, adolescents, young adults and families struggling through depression, anxiety, trauma, difficult life stressors, and cultural/ethnic issues. I also have a special interest in working with your child's school to ensure they have what they need to thrive. I create a collaborative, supportive and therapeutic relationship with a focus on identifying effective ways to manage life's stressors.
"Together, we will work to identify healthy and positive paths to cope and find alternative ways to respond to challenges."
My approach is holistic and integrative, as I genuinely believe in tailoring what happens in therapy to match the needs of my clients. Applying Cognitive Behavioral Therapy, Mindfulness and Play Therapy, my goal is to create an accepting, culturally sensitive, non-judgmental environment so you can express your inner thoughts and experiences freely. I use humor in sessions to remind us of the importance of human connection. Sometimes laughter really is the best medicine.  
I'm a big family person. My family is my everything, and I believe that working with families is paramount in helping people reach their goals. I grew up in the western suburbs and can understand the unique challenges that young people struggle within their daily lives. I'm genuine and compassionate and have an easy time connecting with diverse groups.
My Education and Experience:
I have a master's degree in counseling and am currently completing my doctorate in counselor education and supervision at Adler University. I can administer psycho-educational assessments for students struggling in school. I've worked with diverse populations in various settings that include: residential facilities, in-patient hospitalizations settings, partial hospitalization day programs, and community mental health centers. I'm conversational in Spanish, and when I'm not in the office, you can usually find me spending time with my family and friends.