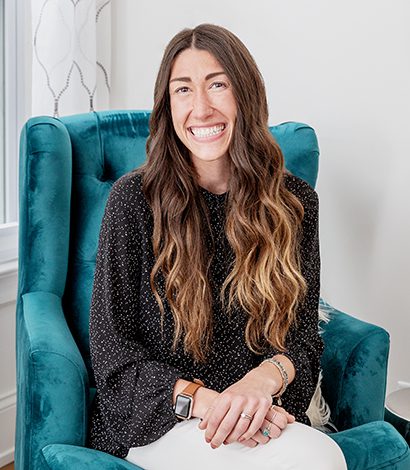 Licensed Clinical Social Worker
Courtney Billman, MSW, LCSW
My passion for being a therapist comes from a desire to help those who are struggling find their own sense of peace. My work can help others find meaning in their daily lives. There is nothing as amazing as that feeling of facing your struggles and overcoming the things that once defeated you.
I deeply connect with teen and adult women who are experiencing eating disorders, mood disorders, and trauma. I have a heart for working with clients who are dealing with complex co-occurring disorders such as self-injury and eating and mood disorders. My experience also includes working with poor body image, body dysmorphia, and/or lack of self worth.
I work from a Health At Every Size (HAES) framework, and use this approach when providing meal and emotional support to my clients and their support systems. I believe that the mind and body are deeply connected and value the integration of a somatic experience when beginning to heal that connection after experiencing trauma.
My goal is to empower my clients, counseling them with Dialectical Behavioral Therapy, Acceptance and Commitment Therapy, and Trauma-Focused Cognitive Behavioral Therapy methods. I am trained in EMDR and am passionate about empowering my clients as they navigate their past traumas. Through exploration of ego states, affect regulation skills, and developmental patterns, clients are able to reconnect with their authentic selves and lead a life no longer rooted in the past.
"Nobody has it all together all the time, and I am here to normalize that."
Above all, I want my clients to feel heard, supported, and empowered, knowing that my goal is to provide them with a safe space to be their authentic selves. I want my clients to know that I am human as well, I am no different than they are, and under no circumstances would I judge them for the struggles they are facing.
My Education and Experience:
I am a Licensed Clinical Social Worker with a Masters of Social Work from Grand Valley State University. I am certified in Crisis Prevention and am trained in EMDR. I have experience providing crisis intervention and stabilization to children, teens, and adults in a variety of levels of care, including inpatient hospital, behavioral health treatment, and residential settings.