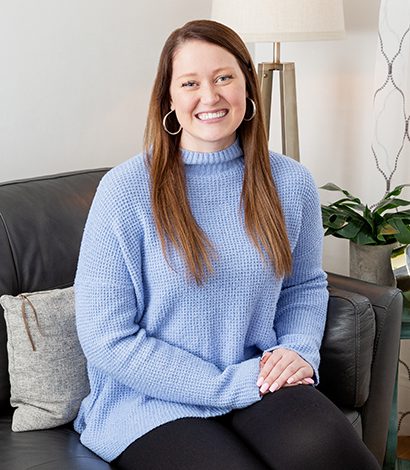 Licensed Clinical Social Worker
Lisa Keller, MSW, LCSW
There were moments in my past where I felt unheard and unseen. Those experiences made me gravitate to my work as a therapist, with the hope of giving every individual I work with a moment in time where they can have someone that is listening and able to help support them.
I have recognized that you can never really tell who may be struggling by an outward expression, so I work to create space to have grace and compassion for my clients.
"I always want to offer a listening ear and supportive heart to help clients feel that our therapy sessions can become a safe place for processing and learning."
I work with teens and adults who are experiencing mood disorders, eating disorders, and trauma. I am trained in Dialectical Behavior Therapy (DBT) and EMDR, a research-based method for trauma resolution.
My treatment focus is to help my clients find the tools they feel are necessary to manage things on a day-to-day basis. Everyone is different and processes things in their own ways. Some people talk through things, while others do artwork. I take time to learn my clients' needs and then guide them into the coping practice that best serves them.
My clients' growth is inspirational to me. I love to see them make tremendous strides, coming from the darkest place it is rewarding to see them find their own light. It brings me joy when my clients internalize the skills learned in session together to strengthen things on their own. When they come back to session and can say that they see things becoming more manageable, they are building a sense of freedom for themselves.
My Education and Experience:
I am a Licensed Clinical Social Worker with an undergrad in Sociology and Criminology, and a Masters of Social Work from Dominican University and am certified in EMDR.  I have experience in partial hospital programs and residential treatment centers working with complex diagnoses.