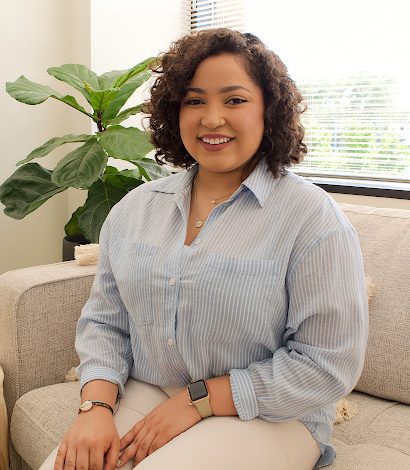 Licensed Professional Counselor
Lexus Rose, MA, LPC
Seeking help can be difficult for many people and it is my goal to provide a place where asking for help is seen as a strength rather than a weakness. I like to create an environment where clients can be authentic without judgment and develop the necessary skills to overcome stressors.
"Together, we can build on strengths that will help you to be a better version of yourself."
My approach to therapy is holistic and integrative and in alliance with my clients' needs. Based on the uniqueness of each client, I may utilize Cognitive Behavioral Therapy (CBT), Dialectical Behavior Therapy (DBT), Mindfulness, Art Therapy, or Play Therapy. Having different options helps create a space where one can work toward self-acceptance, healing, and empowerment. I help clients address past trauma, societal stressors, and ineffective coping skills that can continue the cycle of distress. We work towards a state of safety within the body through mindfulness techniques and combat negative thoughts by understanding the experiences that may have contributed to them. 
I work with teens and young adults experiencing depression, anxiety, anger, behavioral concerns, and the effects of trauma. I am passionate about helping young people find their way! I also counsel people who may have experienced the residual impact of societal structures/systems. I bring a sense of compassion and authenticity to help encourage the transparency clients need to be vulnerable within the therapy room.
My Education and Experience:

 
I am a graduate of Adler University, where I received my Master of Clinical Mental Health Counseling and Master of Forensic Mental Health Leadership degrees. I have worked with diverse populations including those that have been impacted by the legal system, both individuals and families. Through my experience, I have developed a wealth of knowledge regarding institutionalized policies and procedures that have allowed me to empathize with clients navigating this challenging terrain. When I am not in my office, you can usually find me trying new restaurants and traveling to different countries in an attempt to experience all the remarkable wonders of life.