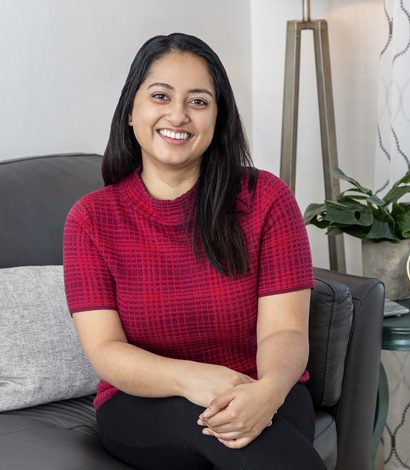 Licensed Clinical Professional Counselor
Arushi Bhardwaj, MA, LCPC
Therapy is a process, not an event. To be willing to live it day by day is courageous and rewarding. When working with me, you will find a therapy experience that is collaborative in nature and begins with creating a safe space to be vulnerable. I love the idea that in each session, we get a little bit more insight into ourselves and can move one step closer towards vitality.
"Therapy is for everyone and taking up space is a growth edge for us all."
Everyone's experience of being human deserves to be honored and validated. The therapy space can be whatever it needs to be that day and it is important we give ourselves permission and space to heal, whatever form that may take. Let's loosen the grip on the idea that we have to "succeed" at therapy. When we allow ourselves flexibility and self-compassion, we can see how our thoughts and feelings give meaning to our experiences.
My primary treatment approaches are Acceptance and Commitment Therapy (ACT), Dialectical Behavioral Therapy (DBT), Cognitive Behavioral Therapy (CBT), and Mindfulness. Coping skills are an important starting point in therapy. These skills give us a foundation to take care of ourselves while we dig deeper and unpack everything that we bring into therapy.
My cultural background has been incredibly important in my growth as a therapist. I am a first-generation immigrant and know how valuable it is to have a space where you feel seen, heard, and validated. I understand trying to balance personal values within the values of two seemingly opposed cultures. Using exercises that connect values to goals has given many of my clients more meaning and a sense of purpose in their lives.
I work with young adults and older individuals who are experiencing a wide array of issues. I enjoy walking with you through anxiety or depression, and helping you explore all aspects of your multifaceted identity. I also have experience working with individuals who are amidst life transitions, grief, multicultural issues, survivors of sexual assault and domestic violence, substance abuse, and disordered eating.
My Education and Experience:
I am a Licensed Clinical Professional Counselor, having earned my master's degree in Counseling Psychology at The Chicago School of Professional Psychology. I have worked in intensive outpatient programs treating acute mood and anxiety disorders as well as substance abuse and disordered eating. I have worked with survivors of domestic violence and sexual assault at an emergency shelter and at a group practice.
In my free time, I love hiking and writing. I learned English as my second language, and I'm no longer fluent in my first language! I find inspiration in the work and words of Brené Brown. One of my favorite quotes is, "we cannot ignore our pain and feel compassion for it at the same time."