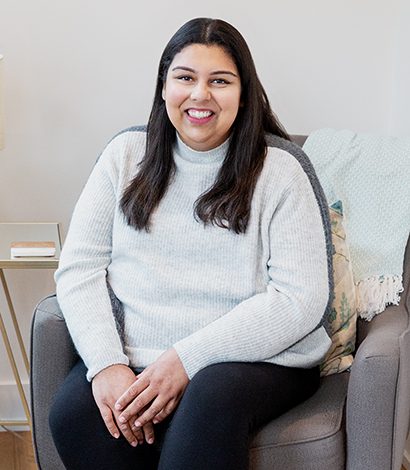 Licensed Clinical Professional Counselor
Sarah Ahmed, MA, LCPC
Being a culturally competent therapist is extremely important to me. As the daughter of immigrants, this experience has helped me to get in touch with my own beliefs and value systems. Therefore, I am able to help clients connect to their own values and take committed action steps in service of those values.
I work primarily with adults and specialize in working with emerging adults who may be undergoing life transitions. I also have experience working with depression, anxiety, bipolar disorder, grief and loss, severe or chronic mental illness and trauma. I take an individualized approach, because I see that each person is unique and has their own internal strengths. I believe getting to be a therapist and walking with you on this journey is an honor.
"Progress is not always linear, and therapy doesn't have to "fit inside a box." We can work together to help you meet your goals."
I believe the foundation of effective therapy begins with the therapeutic relationship. When working with me, you will find a safe, nonjudgmental space where you can truly express yourself. I strive to help people feel understood and cared for, which is often the first step toward healing. Utilizing a blend of person-centered, strengths-based Acceptance and Commitment Therapy (ACT), Dialectical Behavior Therapy (DBT), and Cognitive-Behavioral Therapy (CBT), I take a collaborative approach with my clients to help them move toward their goals. I also use mindfulness approaches to help clients learn to stay in the moment and connect to what's important to them.
My Education and Experience:
I am a Licensed Clinical Professional Counselor, and earned my Master of Arts from Roosevelt University in Clinical Psychology – Counseling Practice. I have worked in a day program setting, serving adults dually diagnosed with mental illness and intellectual disabilities. I have also been a part of a community mental health team, where I treated adults with psychosis, depression, anxiety, PTSD, grief, and bipolar disorder.
In my free time, I enjoy going to concerts, watching movies, and reading. I also like trying out new restaurants with my friends, and spending time with my cat at home.