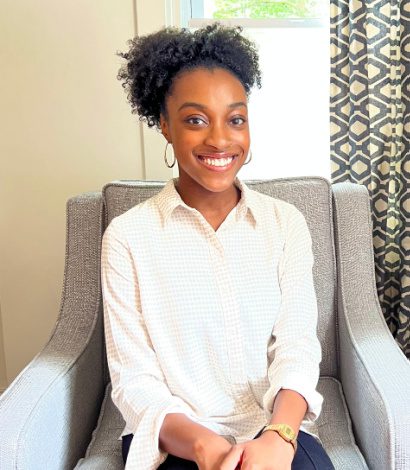 Licensed Professional Counselor
Jada Williams, MA, LPC
I offer a space where clients feel safe, heard, and supported. Everyone has a unique journey, and I want to understand my clients from their personal worldview. I have experience working with adults and have addressed issues such as anxiety, depression, grief, interpersonal relationship dynamics, and cultural/ethnic struggles. 
I believe in using eclectic and holistic approaches in my work with clients, as no two clients' issues are the same. I utilize a mix of Cognitive Behavior Therapy (CBT), Existential Therapy, and Adlerian Therapy to help my clients.
"Together, my clients and I collaborate on a treatment plan to help them reach their goals and live their lives authentically."
I strongly believe in the mind-body connection, and use a variety of mindfulness techniques to anchor clients to themselves and promote whole-person wellness. As a Black woman, I am passionate about increasing access to mental health services for ALL people of color, as it has been deeply stigmatized in our communities for generations. 
My Education and Experience:

 
I earned my Masters of Arts from Adler University in Clinical Mental Health Counseling and my Bachelors of Science in Psychology from Illinois State University. I completed a clinical internship at Lewis University in the Health and Counseling Center, where I worked with traditional and non-traditional college students with issues ranging from adjustment difficulties to depression and anxiety. In my free time, you can find me baking/cooking, reading a good book, or making playlists for my friends.