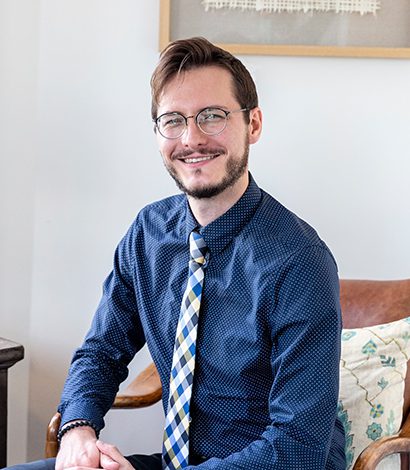 Licensed Clinical Professional Counselor
John Millett, MS, LCPC
I immensely value having the opportunity to get to know you and be a part of your life as you work toward addressing a specific issue, growing as a person, or working toward living the life you want to lead.
"The therapeutic relationship is truly one-of-a-kind and every little moment that hints at that level of intimacy and trust is fulfilling beyond words."
Working with me, you can expect to be received in a warm, calming environment in order to safely and appropriately address any issues. We will collaboratively identify the steps to take toward change or improvement. I will strive to foster a light-hearted, engaging, and productive therapeutic experience that facilitates progress towards your goals.
The work we do together will include exploring your past, processing thoughts and feelings to gain greater insight, developing coping strategies, practicing effective communication strategies, and identifying goals to work toward that are in alignment with your values.
Pulling from an eclectic mix of Person-Centered therapy, Acceptance and Commitment Therapy (ACT), Cognitive Behavioral Therapy (CBT), and Dialectical Behavior Therapy (DBT) I will utilize methods of healing based on your needs and what works best for you.
I work with adolescents and adults who are looking to improve their lives by managing mood disorders, anger, stress and overall improving relationships. I have extensive experience working with individuals needing help with anger management, and families or couples working through relationship issues.
I value working with clients who will, in one way or another, let me join them where they're at and work toward a mutual understanding so that we can achieve the progress they're looking for in therapy. Sometimes, that equates to an instant rapport but, in other cases, it is just as rewarding to work through resistance and apprehension and help clients to "buy in" to the therapeutic process.
Before joining the team at Life Insight, I worked in community mental health in Chicago. I worked with Medicaid recipients – children, teens, families, and couples – with a variety of presenting problems ranging from anxiety, depression, anger management, ADHD, working through transitions and trauma, and more.
I think growing up as a very quiet, shy, and reserved person definitely helped to shape my tendency toward listening, compassion, and understanding. Of course, experiencing and overcoming personal challenges in and around my life has provided valuable experience and I can reflect on those things as sources of empathy with clients: my parents' divorce, tragic loss of loved ones, and personal setbacks.
My Education and Experience:
I am a Licensed Clinical Professional Counselor, with a master's degree in counseling from National Louis University. When out of the office, I love spending time with family, going to concerts and discovering new bands, video games, grilling, hiking, and watching old episodes of The Simpsons.
I love to read and have a healthy obsession with anything written by Ursula K. Le Guin, "To learn which questions are unanswerable, and not to answer them: this skill is most needful in times of stress and darkness."